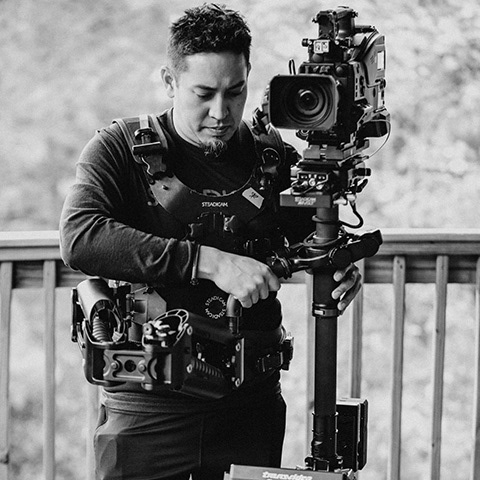 Rey was born and raised in The Bay Area, CA. His professional experience in the entertainment industry started in 1996 in front of the camera and on stage as a tap dancer, musician, singer, and actor before falling in love with the technical work on the other side of the lens. He has had the privilege of studying under the tutelage of the world's most renown instructors and working professionals in several aspects of entertainment. 
Rey's work includes independent and theatrical features, live broadcast, commercials, industrials, corporate, and music videos. He is the former Steadicam® Director of Technical Sales & Services, Lead Instructor of Bronze, Silver, and 3-day workshops globally, as well as Director of Steadicam Gold and SOA Week-Long Workshops. His experience training and consulting operators spans a multitude of clients in the motion picture and television industries, including ABC, NBC, CBS, FOX, CNN, ESPN, NFL, Disney, DreamWorks, Marvel, Netflix, HBO, Showtime, and more. 
Rey brings a unique approach to instructing for the Steadicam courses due to his extensive experience as an Athletic Director, Coach, Martial Arts Instructor, and Teacher for K-12 grades in Physical Education. Formerly certified by NASM (National Academy of Sports Medicine), Rey has also been employed by collegiate and independent professional sectors in various applied sports sciences and personal coaching.
Rey's passion for Steadicam and its historical lineage is a "continuous commitment to explore and share the knowledge, ingenuity, and artistry of this craft". 
Multi-faceted and always willing to learn, evolve, and be challenged, Rey is also running a land acquisition and recreational rental property business with his beautiful wife in Utah, and is also part owner in a New York based private equity investment firm. When not working, Rey volunteers his time in his community through various organizations including local Lodge #33, The Shriners, St. Jude, and Lodge #1743, among others. He would set it all aside, however, to just be out in the wilderness, staring up at the stars and listening to the wind play through the trees, in peace.